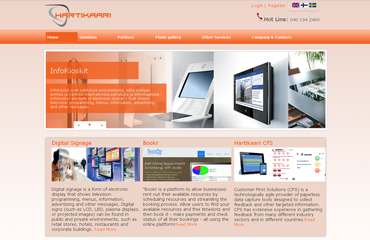 Our Project At Glimpse Website Redesign of Hartikari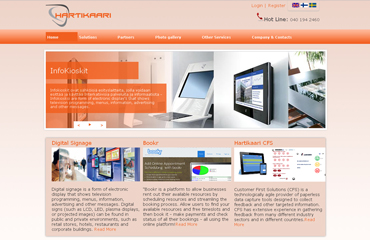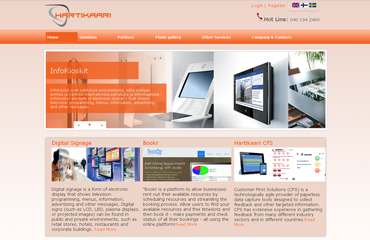 Project Detail
Hartikaari Ltd. is a well-established Finnish company based in Helsinki.  It leads in the field of Interactive Digital Signage, and other IT solutions like information kiosks, resource management, queuing and reservation solutions, solutions development, services, sales, maintenance, consultancy and training.
Overview
The exodus of Hartikaari began on 1992 with a modest but steady start and now the company establishes itself as a major company in the Nordic countries and Europe. In 2010 the company had a major makeover by focusing on corporate image, operational model and business trends which boosted its success rate. 
Already established as a major company in Finland, Hartikaari has over 25 years of experience on IT and information distribution on various business areas and build solutions for local and international market. The name Hartikaari now stands mighty for visual technology and kiosks technology and development. Sofos team redesigned Hartikaari Oy and also made the mobile application HartiKaari Sales Force 2020.
Major Products & Services
 i. Digital Signage 
ii. Infokiosk
iii. Software development
http://www.hartikaari.fi/en
Helsinki, Finland
Sector IT and other services
Location Europe
What we did 
i. Redesigned the company's website
ii. Created HartiKaari Sales Force 2020
iii. Created  Tikkurila's Electrical Ltd website in association with HartiKaari   (http://www.tikkurilansahko.fi/)
We were requested by the company to rebrand its website so that they could give better service to its customers. We used PHP, Joomla and MySQL to create the website and the result was outstanding.   Also, the company wanted us to create a mobile application for sales sector. The app would record the database of sales made by a sales person through the forms submitted by customers. It is basically a survey system and based on android application. We used thesetechnologies to create the app:
Technologies Used
 i. PHP/ MySql
ii. Android SDK
In short, what we focused on was simple:making the app functional;we divided the app development into four category:
i. Login and location authentication
ii. After sales question entry form
iii. Product Information addition form
iv. Android Application ask for installation   
The app has become a hit in the  sales market survey as owners can easily set targets for increasing their sales by depending on the number of sales made by a salesperson. It's helped retail owners to evaluate the sales figures and take decisions accordingly.