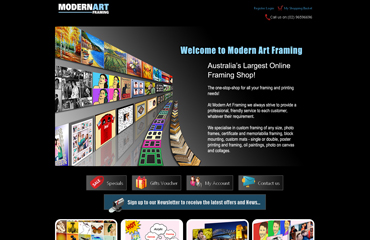 Our Project on Online Framing and Reproduction E commerce Website Development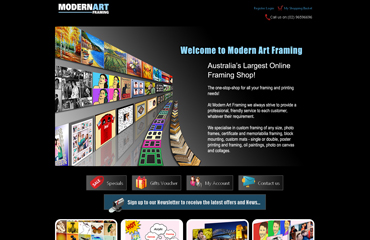 Project Detail
Modern Art Framing Pty Ltd (MAF) is an online retail company that has been providing quality framing and artwork needs to the Hills area of Sydney, Australia since 1997.
Overview
MAF began its operations in a warehouse within the industrial area of Castle Hill in Sydney to provide framing services locally. The company's dedication and professionalism have seen the business expanding to retail outlets in Supa Centa Castle Hill and Rhodes Shopping Centre. Over a decade of constant commitment to understanding client needs, MAF now takes pride in providing the most comprehensive and professional framing and wall decoration items throughout Australia.
MAF is an ecommerce website for developing photographs with frames. It is one of the leading online framing e-store in Australia which provides a professional, friendly service to customers nationally and internationally.
Sydney
Sector Online retail
Location Australia
Major Products and Services:
i.   Photo Frames and Matt Boards
ii.  Digital Art
iii. Poster and photo printing
What we did
Websupreme created a content management system capable of setting up products, managing frames, mats, painting, poster, updates price, size, and attributes of the products for order, sale and payment.
Why we did
The main emphasis of the company was to make its site more user-friendly and easily accessible without confusing its customers so for that reason the company approached Websupreme and we were successful to create an ecommerce website for the needed purpose.