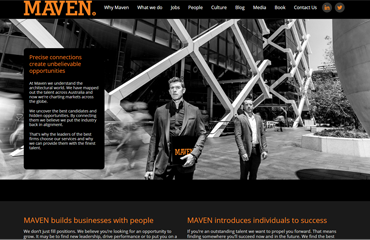 Our Project At Glimpse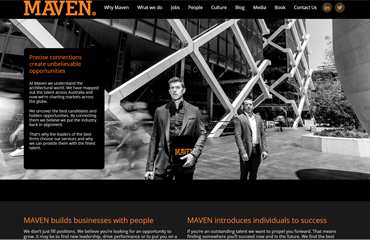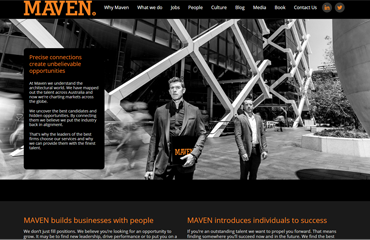 Project Detail
MAVEN, the architectural business started in Australia in 2010. It started its business as an executive search for the architectural firm but later realized connecting the business around Australia so that people not only have access to individual in the immediate business surrounding and their personal connections but also have network throughout Australia. MAVEN connected the entire architectural market and people so that business network is explored and right candidate fit in the job. .
THE CHALLENGES
The major problem with the site that made it to redesign was its design issues. Previously, the site was not so user interactive and user friendly that could attract the visitor to revisit the site. The site was responsive but was inconsistent throughout different pages. Along with this, blogging was not one of the features that it could offer through its site. The business has to have consistent interaction with the client through social media like Linkedin and twitter but it had no LinkedIn, twitter updates posted on the site.
SOLUTION
Websupreme solved the entire problem encountered by the MAVEN Group in their old site. We were able to make the site full responsive and enhanced the interactivity. Along with blog multiple informative pages were added. The site is able to display the LinkedIn and twitter updates directly in the site itself.
WHY WORDPRESS
WordPress is very scalable and flexible CMS for small business like Maven, before coming to Websupreme they were using WordPress as their default CMS and we also suggested them to continue with wordpress because of its easy administration of contents, management of web resources and the customization. .
KEY FEATURE OF THE PROJECT
·
Full responsiveness
Metabox feature (able to create top block of every pages.)
Able to show LinkedIn, twitter updates directly into the site.
WordPress v3.9.3
Plugins/extensions
WP LinkedIn [Get Linkedin Company updates from LinkedIn company pages. Here for maven ]
Responsive full width background slider [Background slider for mavengroup.com.au with responsive ]
Metabox (able to create top block of every pages.)
OUTCOMES
Websupreme was able to deliver the effective site to the MAVEN group with the desired functionality, usability and features. The entire desired requirements were well addressed and fully deployable site was delivered with extended features.
TECHNOLOGY USED
+ Web-Based Programming Languages

– HTML/ HTML5
– CSS/CSS3
– Bootstrap v3.3.2
– Javascript/ jQuery v2.1.3
– PHP / Mysql
– XML, JSON

+ CMS