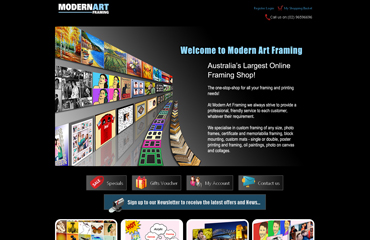 Developing Photo Framing & Artist Website Is Now Easy With WebSupreme
If you are a small business offering photo framing and printing service and worrying about your online presence then Web Supreme online framing solution can help you.
It's very vital now a days to have a fully functional and dynamic websites from which your customers are able to buy your product or services.
Now the static website that would showcase your services are outdated and you must be able to offer the services online to keep your business alive on this ever growing competition. Basically the assumption of online framing solution, is that users should be able to upload their picture, choose from available range of frame, select the materials and other alternatives and match the framing need online.
From the responsive design that can perform on multiple devices to intuitive application that can make the purchase a real breeze for the customer, websuprme take care of all those needs. Business will get easy to use backend from there they can do much more than add, manage and update the product and information.
If you are a individual artist like Kenducan and want to build a website from which you can feature your artwork and sale them online, Websuprme will make it even easier for you.
You can view some of our online framing website develpment projects below
Modern Art Framing
Art Print On Demand
Art World POD
Kenducan
Art & Frame
Modern art framing offers online picture framing service. As an e-commerce solution, we develop, simple but intuitive web app to provide better online services to the visitors. We develop a user friendly site with better navigation and rich app to transform online framing service into a breeze. User can upload custom photos for framing, choose the style and effect as well as order multiple services at the same time. They also offer photo transformation service for that Websuprme made very intuitive app to make user easier to play with their services.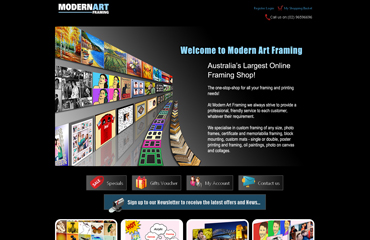 {fastsocialshare}
Categories
ECommerce